In Lhasa, capital of the Tibet Autonomous Region, when one finds oneself trained by a crowd of pilgrims waving prayer wheels and scraping wooden chaplets one realizes that one arrived at Barkhor,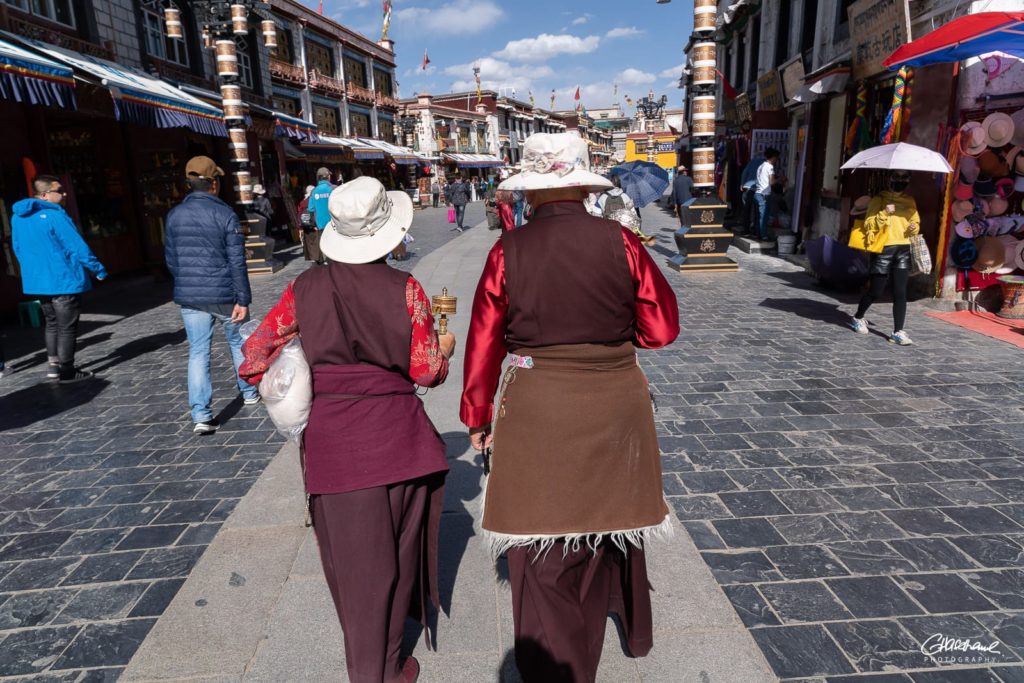 the pilgrimage circuit that surrounds Jokhang, the most sacred temple of Tibetan Buddhism. Pilgrims from all over Tibet converge here, in the heart of old Lhasa, in traditional costumes and headdresses typical of their regions, to manifest their religious fervor by bowing to the statues of their deities. Some devotees have traveled several hundred kilometers by the road prostrating, so they protect their hands and knees wood chips or leather. From this swarm of perpetual motion rises in a low murmur the prayer of compassion, repeated endlessly by the crowd. The district of Barkhor is the soul of Lhasa, its spiritual heart but also commercial streets lined with stalls selling prayer flags, rosaries and other religious objects, jewels and colorful clothing, glittering daggers, buttered tea and tsampa.
At the turn of an alley, one can also cross Chinese soldiers, submachine gun in hand, walking in step, who patrol squadron in the Barkhor to show their force deployment always present. In 2009, during my first trip to Lhasa, they were mainly present on the flat roofs of the old houses bordering the Barkhor, since they took to the streets and blocked by controlled access all the points of entry of the Barkhor.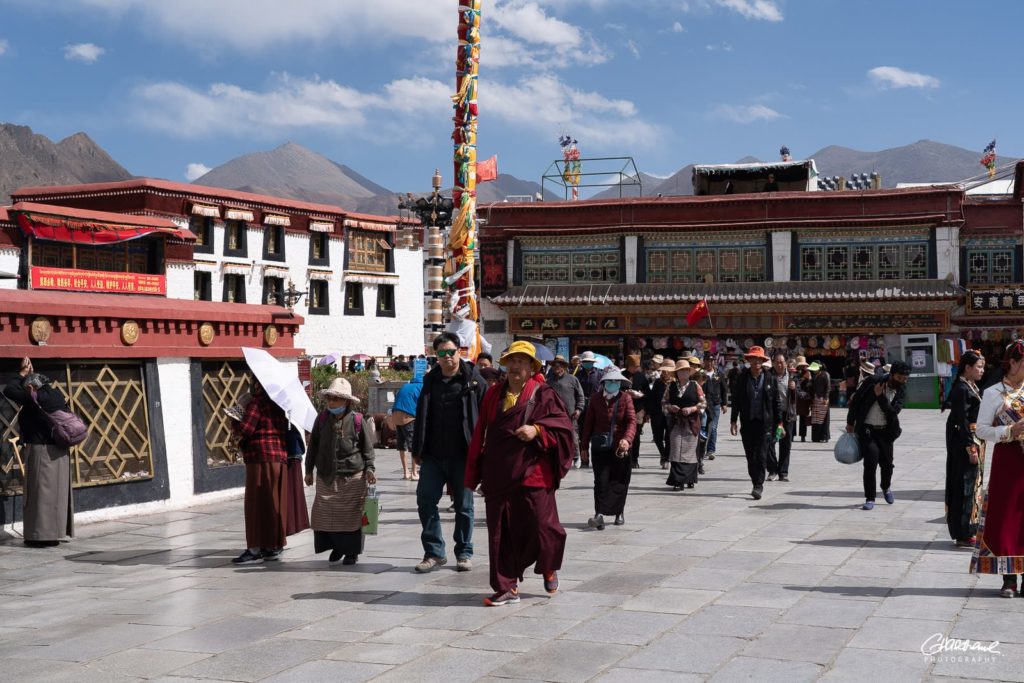 My photographic pilgrimage to the Lhasa pilgrims took place over several days. Every day I turned around the Jokhang, sometimes in the opposite direction of the pilgrims to better observe the faces, dozens of times in search of the soul of these places of pilgrimage through the multitude of portraits photos that he is possible to meet people at random. Some Tibetans seeing me do even offered to help me to approach these pilgrims to get their permission to take pictures. Many refuse, sometimes out of timidity or embarrassment.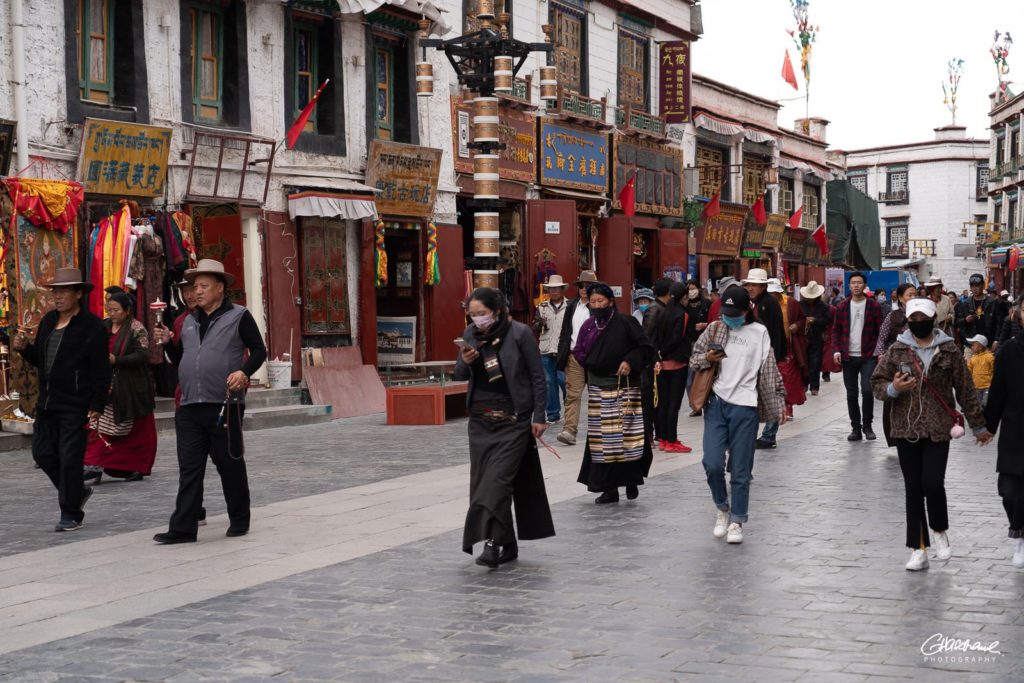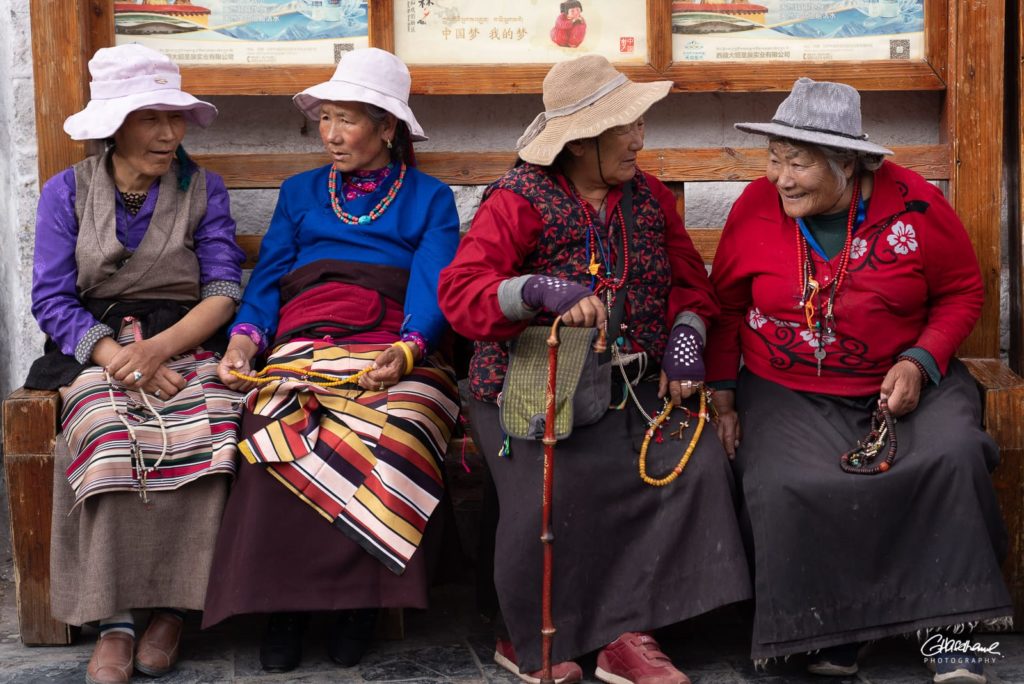 Faces project – Lhassa Portraits. Part 1
Click on an image to access the gallery.
---