---
The Shwesandaw Pagoda in Pyay is not uncommonly surprising when you walk around it in spite of the gilding, the impressive size of its Stuppa and the calm that reigns there as often in these places, this one being All the same one of the most important places of pilgrimage of the country: It would contain some hair of Buddha. The view is far away from the promontory on which it was built. But it is above all the meetings that can be done there that make it possible to remember the places.
Turning around his golden stuppa, I saw approaching a cripple who had to penetrate by one of the 4 cardinal entries that often give access to these pagodas, one of which has a lift and it is certainly this one Which he borrowed. I was struck by his height and his infirmity. He had no more legs and advanced painfully on his pelvis or buttocks with a cane under one arm and a wooden "skate" in the opposite hand. We are not accustomed to these encounters in our highly medical Western societies. It is difficult for me to divert my head and forget this image and especially the existence and the physical and moral suffering that this man can endure with such infirmity. I waited a few minutes to see how the "locals" would behave by crossing this cripple and thinking maybe adapting my attitude to theirs. But the few visitors and faithful who passed by did not have eyes or attention for this cripple.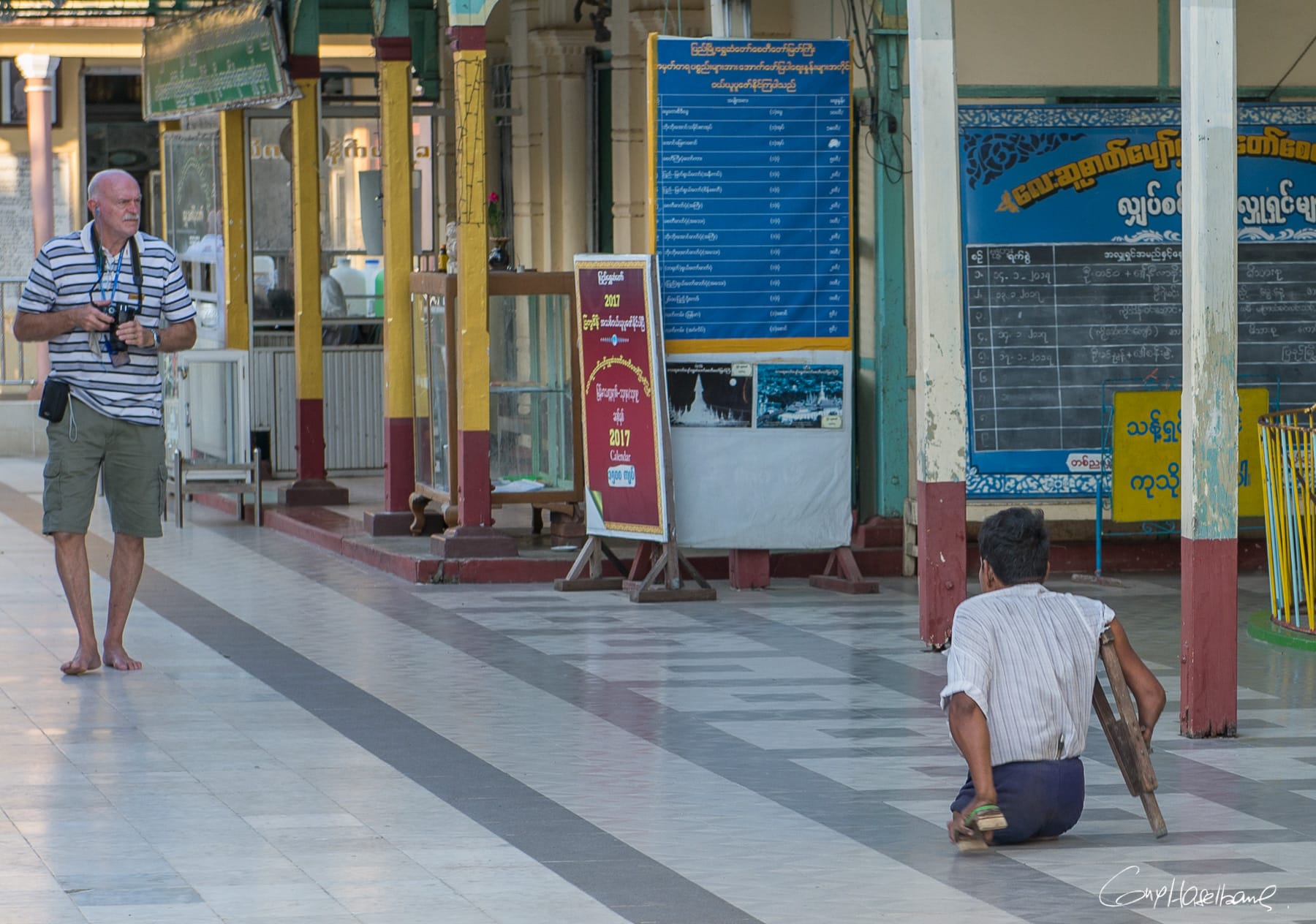 He looked at me with a smile. I tried then to transmit to him in return the smile as natural and as frank as possible, stooping to offer him some notes that he took from his hand as invalid. I saw him again this morning and then in the early evening "standing" next to two faithful who were chatting with him, and he gave me a sign and a smile at a distance that I immediately returned to him as if we were Become familiar.
And yet I am ashamed.
Shame on me sometimes to complain of such a disabling condition with regard to such infirmity. Shame on being what I am and to cross what it is. Shame for all those who are lucky enough to be still biped and who do not even deign to smile, to see a look at this wretched deprived of his legs.
Continuing the circular visit of this pagoda
We pass by a series of prayer rooms that surround the golden Stuppa in which some of the faithful gather.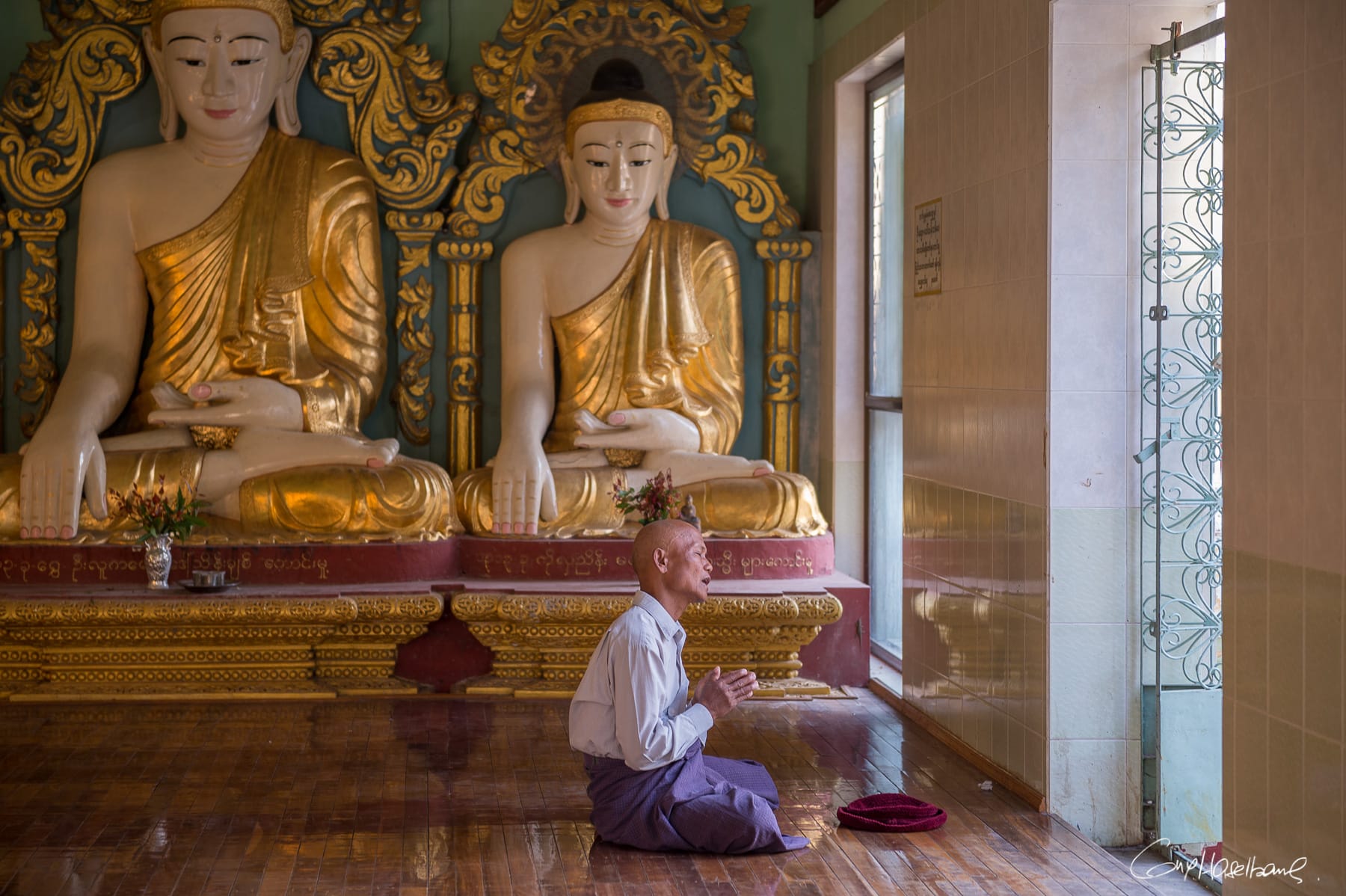 A monotone voice is heard from one of these halls of prayer which repeats a couplet in a loop.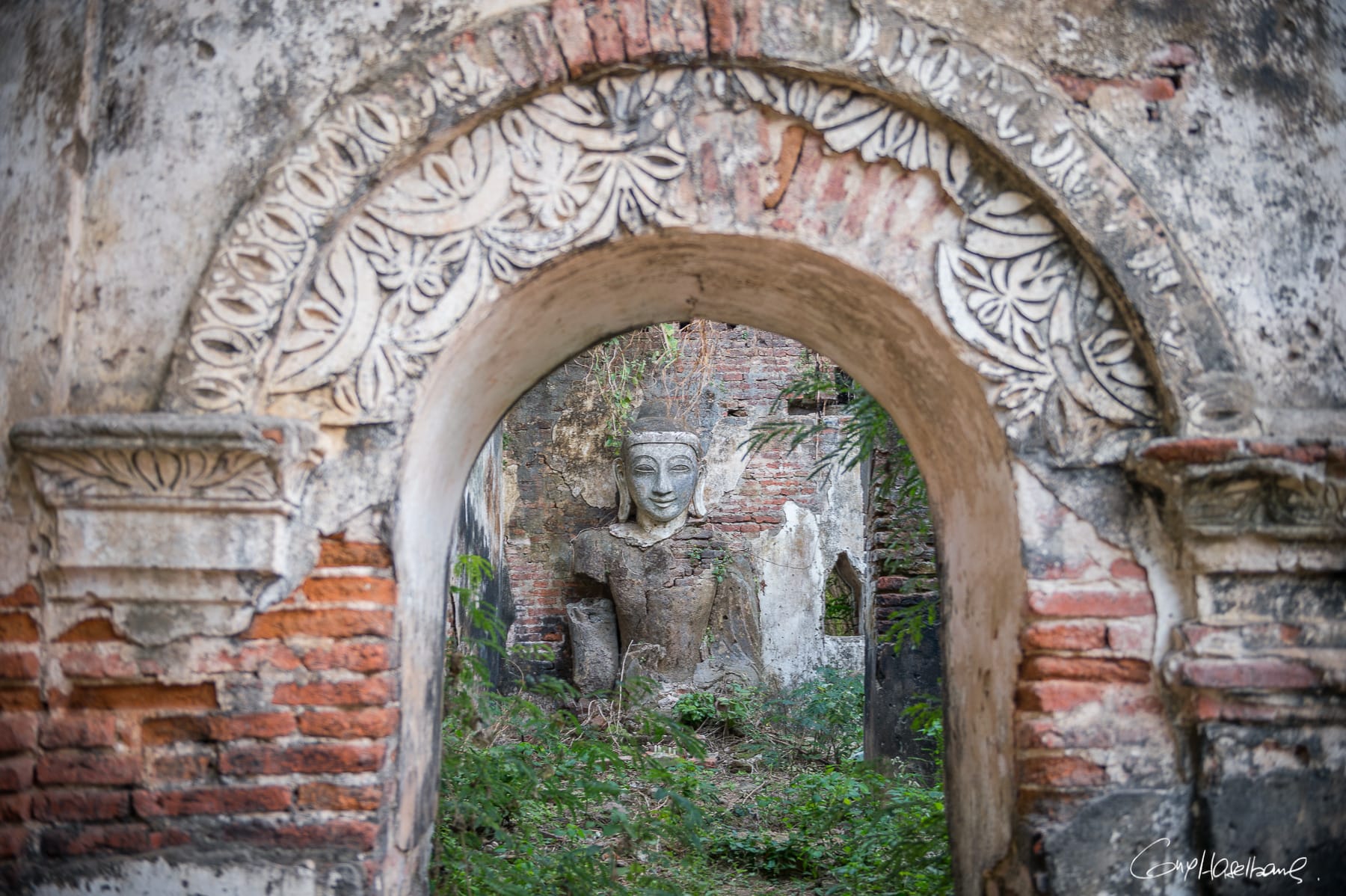 ---
The monk of Shwesandaw.
Going down the staircase opposite the main entrance we find ourselves in a place surrounded by dilapidated old houses, some in ruins, dating back to the colonial era and surrounded by a verdant garden where the monks of the pagoda live.
Quickly a monk greets me with a big smile and proposes to follow him for the visit of the "vestige" that he occupies with others. It is a 108 year old house whose façade is assailed by vegetation composed of ferns, mosses and various plants that have developed thanks to the humidity of the walls.
On the ground floor, the main room seems very versatile and should serve as a living room, a prayer room, a bedroom, a reading corner and a reading corner. And surely hosts several monks or moninillons. The conversation is as limited as my knowledge of the Burmese and so after a few gestures and smiles, I thank him for his hospitality and continue my visit.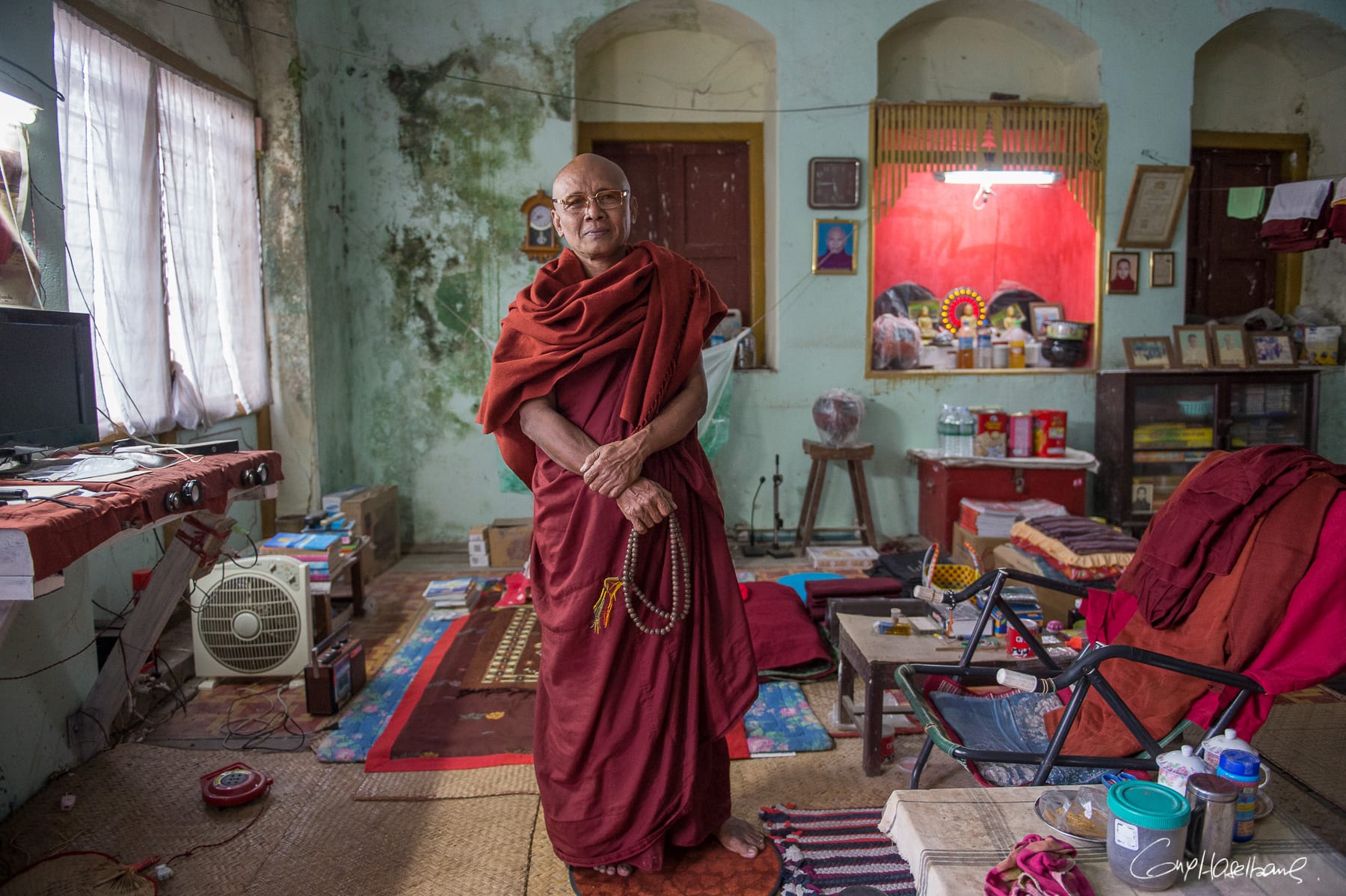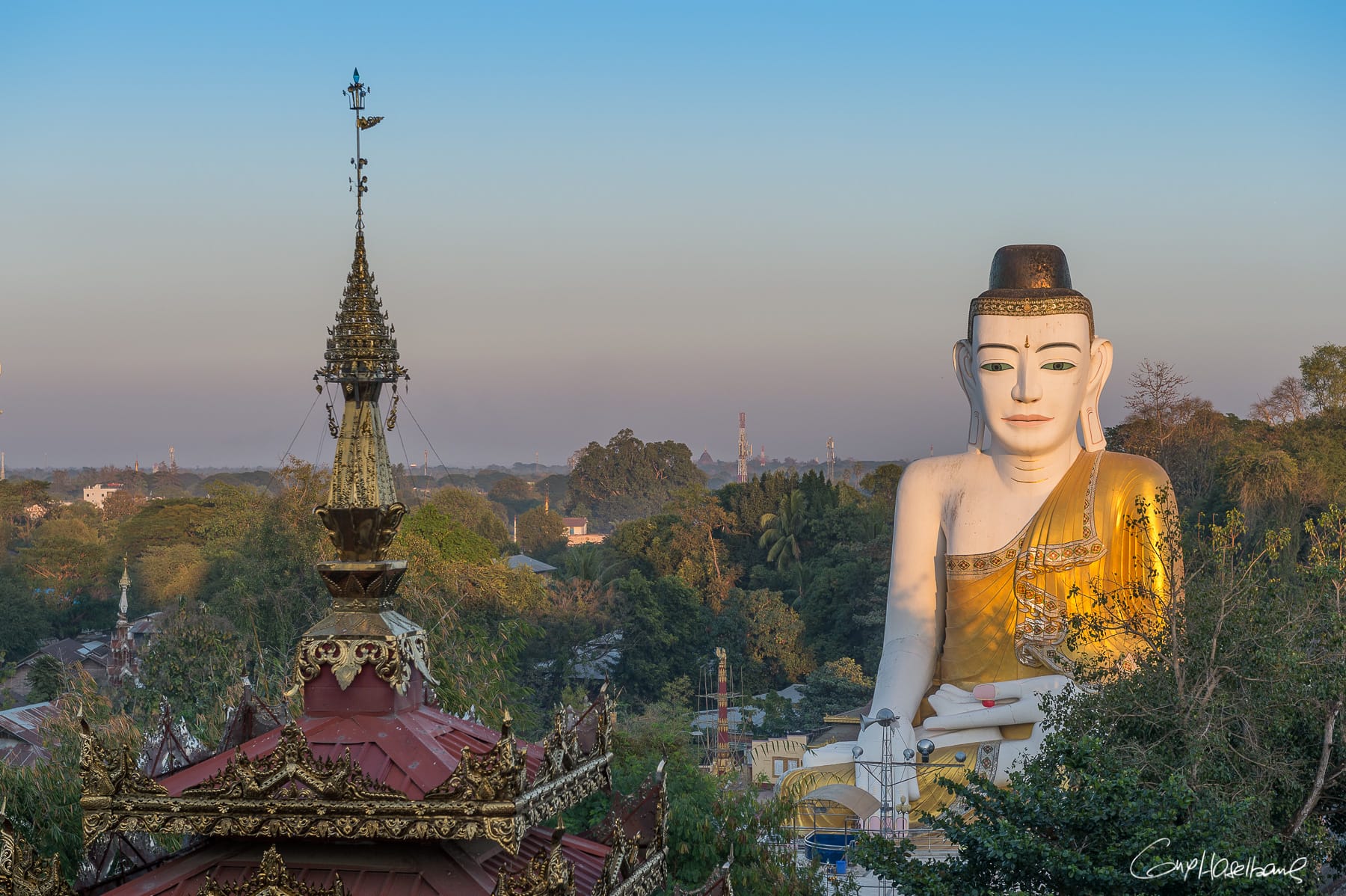 ---
---
Scratch the gold and you will find the true treasure.
Finally, this tour of Pyay's Shwesandaw Pagoda and its adjacent monastery could be summed up as follows: Scratch the gold and you will find the true treasure. It is far from being a word of wisdom or gospel, it might even seem a bit cheesy and yet it is the feeling that dominates after this visit of the pyay pagoda. A debauchery of gold as in all the great pagodas and the sacred places of the country, but beyond that brilliance of precious metal, these sacred relics composed of hypothetical hair of a hypothetical Buddha, there is reality, The real, that of the men reduced in their flesh who only measure one meter and who still rise through their smiles again and again. There is the real treasure. Nowhere else.

---
---
You might also like
---