They are sometimes referred to as beasts of circus or as curiosity to see, some call them "women-giraffes", others still feel revolted …

---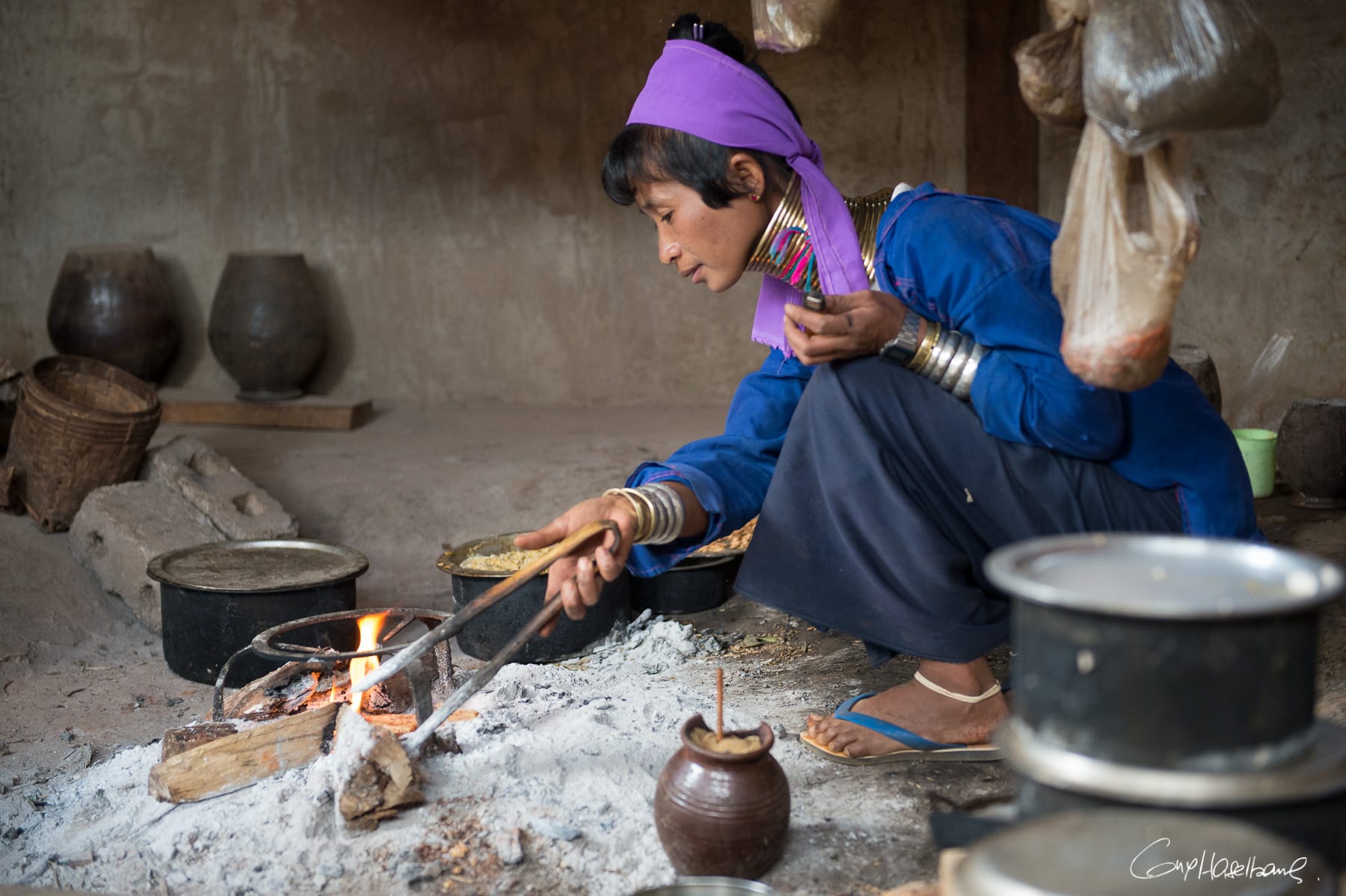 ---
Of the condition of women through these "long necks" stretched unnaturally by copper rings or more exactly by a spiral. In reality the neck is not stretched but it is the shoulders that are compressed, certainly the result is the same. I wondered if I had to lengthen the list of curious visitors and go to meet these women
Kayan
.
There was also the question, well before the free elections of 2015 and the beginning of the democratic process, whether to go to Burma or refuse to endorse the junta. I had chosen to go there to see and to know, then knowing, then to be able to say. And the same goes for an infinite number of other prejudices. These famous rings as well as the rings of the ankles and the bracelets must weigh about 15 kg for a woman who carries fifteen rings. The price is also high. And despite these disadvantages it seems that tradition persists in some of these women and even some girls. Several hypotheses circulate about this tradition. The one I heard would be
To give a dragon resemblance to these women to make flee enemies or animals. Apparently this is a deliberate choice. Some girls or Kayan women I met in these villages did not wear rings. To meet these Kayan women from Loikaw in Shan State, you need a guide who speaks the Kayan language and who knows the villages and families to meet. It also takes a driver, the road is long to reach these villages located in the mountains. Finally a detour by a small grocery store is necessary to buy some "gifts" (oil, laundry product, biscuits for children, etc.) and thus meet the hospitality of the Kayan.
We are welcomed in small houses on stilts built of bamboo for the most part with palm roofs. And the discussion begins with a glass of millet wine. It is made from millet, rice and hot water (it must be fermented for a week before it can be drunk).
They put it in a portable jar made of dried squash and drink the wine with a wooden straw. For me the day ended with a slight problem of intestinal infection, I suppose that the lacquer bowl (sap of a tree and woven bamboo) and straw must be particularly dirty to force through all the mouths.
In these villages the Kayan are Catholic, but some villages further they are animists. In these villages the Kayan are Catholic, but some villages further are animists. In this small church there is a ceremony once a week without the parish priest (who on that day slept then he was left in his dreams). Once a month a "real" mass is celebrated by the parish priest.
---
---
Portraits of women of the Kayan ethnic group of Burma.
These photos were taken from several families in this group of Kayan villages.
Click on a picture to access the gallery.



---
Listen to an excerpt from an audio recording made during one of the discussions.
Going to meet some women representing one of the 150 ethnic groups composing this mosaic of the Republic of the Union of Burma is a double enrichment: the one of the internal journey that one makes alone one melts of its conscience and that of the Ethnographic photography that we try to share. The two journeys complement and interpenetrate. And this meeting is certainly one of the strongest moments of this trip.
The story of some of these Kayan populations is shared between Thailand where they came to take refuge during the numerous clashes with the Burmese army. Others have crossed the border in hopes of a better financial future based on the curiosity of tourists visiting Thailand who want to report photos of "giraffe women".
Sad exoduses.
---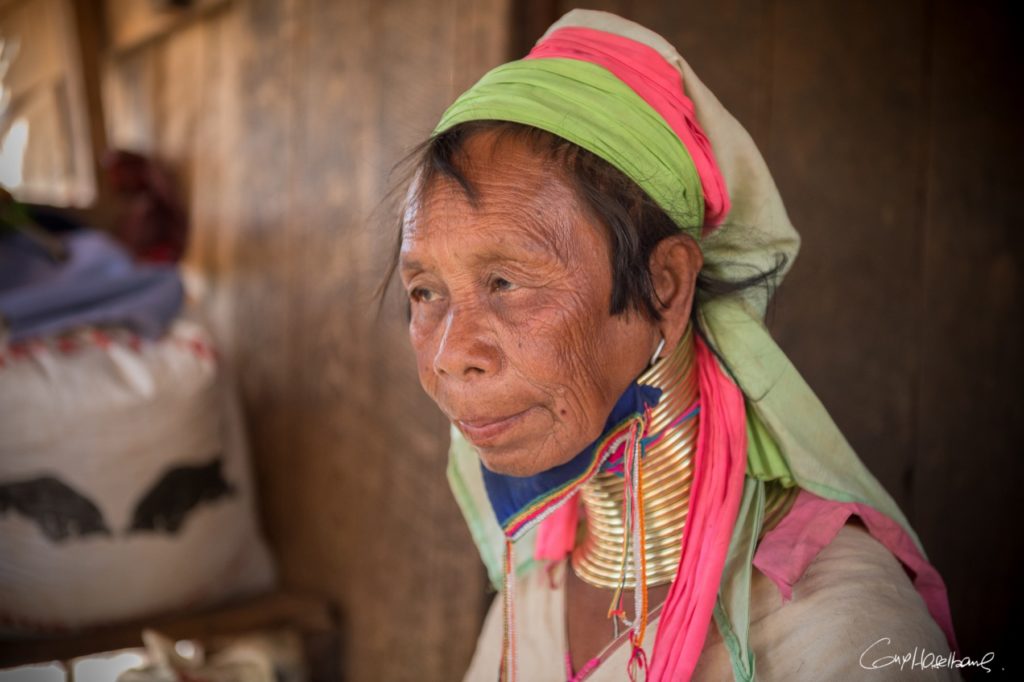 Burma, cultural or conflictual diversity?
Extreme difficulty in reconciling one of the greatest ethnic diversity in the world. 135 ethnic groups are officially registered by the government, which total a hundred different languages and dialects. The "ethnic minorities" represent about one third of the country's 52 million inhabitants. This diversity, which appears today as an insurmountable integration challenge, seems to me to be an exceptional asset for this country.
Read also: Ethnic groups in Burma • Martin Smith.

---
Go to top
---
---
You might also like
---